Black Disabled Art History 101 – Book Review
December 20, 2017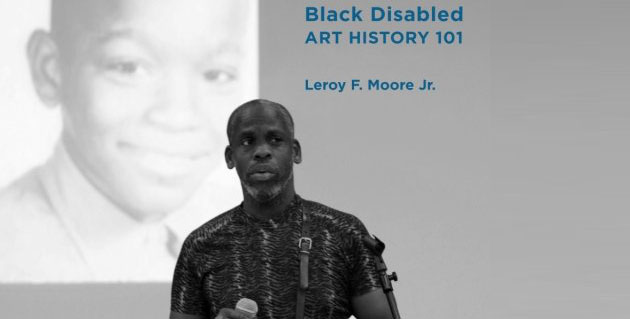 Guest blogger: Jackie Pilgrim is an advocate diagnosed with Asperger's, mother to a young adult also on the Autism Spectrum, and an International Speaker on Autism and Intellectual Disabilities. You can find her on Facebook, as well as on her blog, AutismsLove.
A young Black boy born with a physical disability learns about Black disabled musicians from the album covers of his father's record collection. Later, he would come to realize the strength he gained from seeing those images and listening to their music when having to face teachers and other adults constantly telling him there were no artists who were Black and disabled like him. Leroy Moore's passion kindled when he was a little boy has come full circle as he draws from his childhood discovery of not being the only, but being one of many Black disabled artists.
Black Disabled Art History 101 will open airways and doorways for Black disabled children's imaginations to soar as they aspire to become artists or whatever else they want to be. Like Leroy, they too will draw strength from the images, knowledge, music and written words about and born of disabled Black artists. Readers of all ages will enjoy discovering a genre of history little known, beautifully crafted with colorful portraits of artists and their work interwoven with poetry in an age old storytelling style.
Black Disabled Art History 101 is a chronicle of art history unlike any other.
This is only the beginning.
My initial thought about this book – it's going to be great, just because it's written by Leroy Moore. I don't know Mr. Moore intimately; we worked on a project together once. I had the pleasure of speaking with him briefly. In that moment, it was clear the character, passion, and drive Mr. Moore possesses. Within 15 minutes, he can captivate and, moreover, emancipate us from a societal mindset bludgeoned by colorism, intersectionalism, hypocrisy, ableism, and overall ignorance. That being said, I wasn't mentally prepared for the change I myself would experience while reading this book.
As young children, we often look towards outside sources to find reasonable representation of ourselves. There's sometimes a strong need to be part of something greater, or at the very least, the possibility of stumbling across evidence of being accepted as we are. Within the pages of this book, you will not find disability portrayed as a "thing" to behold or overcome, but an everyday part of life. You will see the art of being human and the beauty of human artistry through pain and prowess. There is hope beyond the compassionate smiles of wayward parents; vision beyond the pearls of wisdom cloaked with uncertainty and collateral movement beyond the stigma of inspiration.
"Healing begins where the wound was made." ~Alice Walker
The music of Jonnie Mae Dunson plays in the background as I drift deeper into what's starting to feel familiar, like a childhood friend. Connections are woven into a myriad of colors, textures, music, and poetry. Vivid recollections of struggles to find meaningful expressions flood my mind with the turning of each page. A work of art in of itself, each story is compelling and gives just enough to make you want more – from the spray paint of a young artist who taught himself to paint with his left hand after losing his right arm in an accident, to the little girl told she would not survive to live past the age of 14 and whose music dominated the Chicago blues seen for 50 years.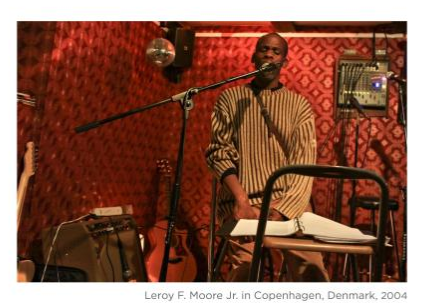 The perfect teaching tool, children and adults will learn about Identity-based language and the importance of celebrating individual creativity. Children will also learn about different kinds of art such as visual arts, music, dance, poetry, and acting. At the end of the book, there is a glossary of words about disability that will empower and not demean.
Countless hours can be spent on independent research of each of the artists or creating family activities based on the arts in the book, such a drawing contests, quiz games, creating short plays, or searches for information on other Black disabled artists that may not be listed in this book.
There is so much more than mere depictions of people in a book. The experience is beyond relatable – it's educational, and for some of us, it's personal.
 "In order to dispel disability stigma, decrease and someday abolish inequality in rights and resources for disabled Black people, we not only have to come together to voice our needs and concerns, we must also be willing to do the work.  No one can tell our stories better than we can.  No one can understand our plight more than we do.  No one is better equipped to meet the need than we are." ~ Jackie Pilgrim
Leroy Moore, tireless protagonist that he is, will stop at nothing to see justice prevail where there is injustice, equality where there is inequality, raising of awareness where there is ignorance, and lifting of voices where there is silence.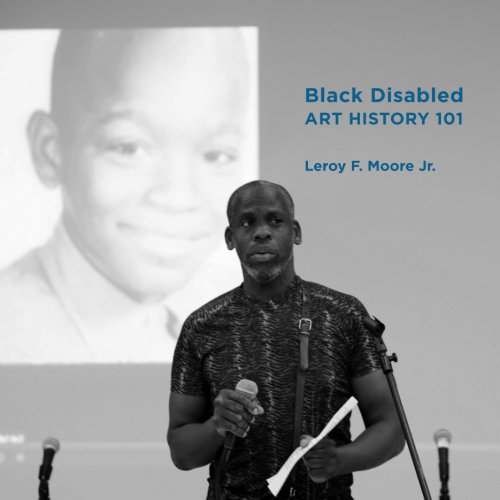 Black Disabled Art History 101 will propel its readers into a world unknown to many, and unrecognized by the exclusivity of privilege in the very thing that elevates the embodiment of expression and application of human creativity. Art as a vessel is supposed to allow the artist and those who appreciate the arts to see past coloring inside the lines, yet the boundaries remained clearly defined – that is, until now.
Cerebrally stimulating, soul surging, intrinsic and profound, both child and adult alike will be completely submerged within the pages of this masterfully written publication.
The book is softbound with glossy finish. On the front cover is a black and white image of the author holding a microphone in one hand and notes for his speech in the other hand. Behind him in grey scale is a large projected photograph of the author as a young boy. The title of the book is in blue blocked letters, bold font. The back cover shows a self-portrait of one of the artists and three beautifully written reviews. In the body of the book, pages are bright white, a perfect backdrop for vibrant images and artwork. The text is black and easy to read. Titles are in varying pastel colors. The book is light weight, having 111 pages. It is child friendly with flexible soft edges, so no chance of paper cuts to little fingers.
Black Disabled Art History 101 is a wonderful addition to your child's literary repertoire and an exceptional reference book.